Description
*VINTAGE PUMP NOT CURRENTLY AVAILABLE*
Our vintage pump is not currently available. All bottles of our Room Perfume ship with our classic pump as seen in the image below.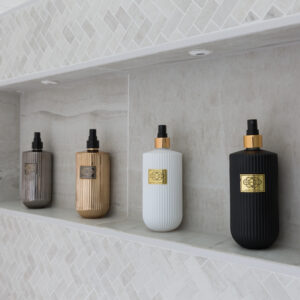 High Fragrance
Height 166mm Diameter 72mm
Presented in a luxury gift box
375ml
Hand-poured in the UK
Hand crafted Bottle
Warning: Highly flammable liquid and vapour, Causes serious eye irritation, Harmful to aquatic life with long lasting effects.
Contains: Ethyl alcohol,6,7-Dihydro-1,1,2,3,3-pentamethyl-4 (5H)-indanone, Benzyl salicylate, Piperonal, alpha-Methyl-1, 3-benzodioxole-5-propionaldehyde.